Roneo
25+ Year Old Gelding
Brought to APAC Project Jewel earlier this year , signed over to APAC after being used as a school horse most of his life and due to arthritis in his legs unable to work more. Thankfully APAC have taken him in and he is now loose spending his days grazing in the sun, with no more weight of students to carry and lots of movement his legs are greatly improved as  is his life.
Thank to you donations and support Roneo will end his days relaxing and eating and enjoying life 🙂
Update
Sadly we lost Roneo in the June of 2015, he was such a sweet boy and the reason why I personally became involved with APAC Caballos and Lois who helps all these horses, his health had deteriorated so much over the year and the kindest thing for him was to be put to sleep. He had a fantastic last two years, after coming from a stable where he was locked in with no movement and couldn't walk to being free to move, eat and enjoy life made him a different horse. I am so glad you are in a better place now old boy and I thank your sponsor who supported your care in the time we rescued you.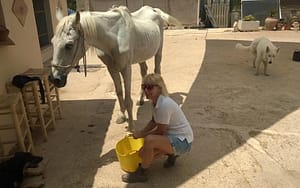 [easymedia-slider-one med="660″]